Your Menstrual Cycle:
Now that we know our basic anatomy and major hormones, we can apply it to a real-life experience that many will understand, the menstrual cycle. Menarche is when an individual has their first menstrual period. It can take years after menarche for an individual to develop a consistent and predictable cycle. A typical menstrual cycle lasts 28 days, but a "normal" cycle is considered anywhere between 21-35 days. Our cycles have four phases every month, from the time we enter puberty (average age of 12-14 years) all the way through menopause (average age of 51). So, let us review these phases and see how our hormones and anatomy come into play: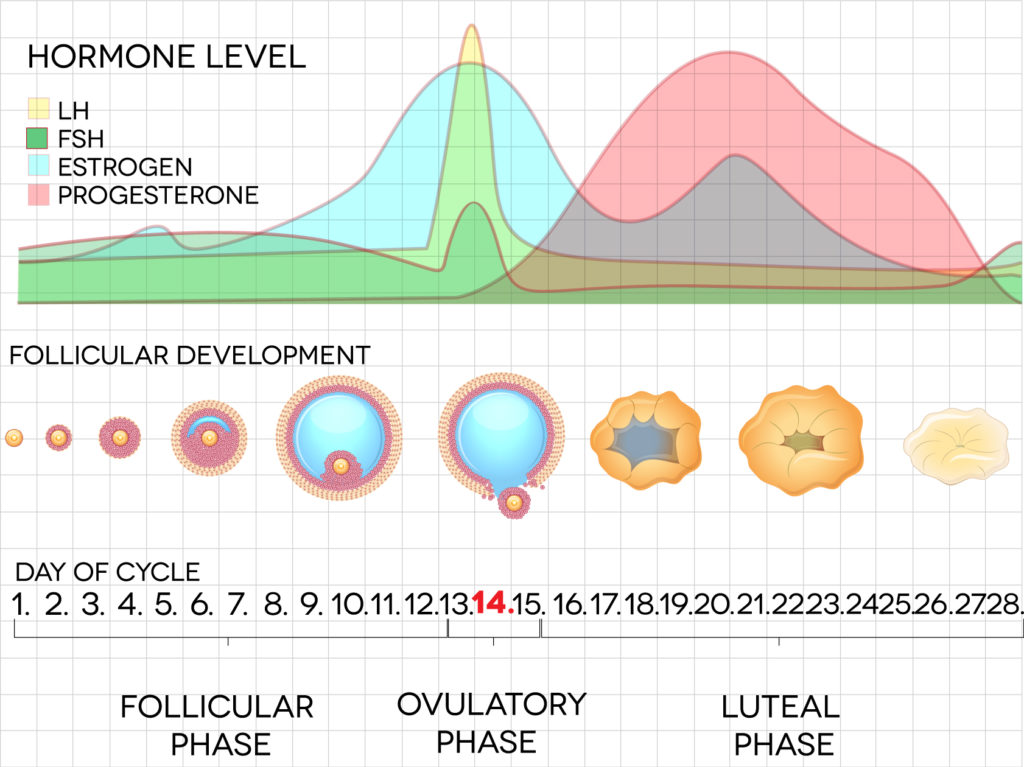 Menstrual Phase: The menstrual phase is more commonly known as a period. It is the first day of the entire cycle and usually lasts 1-5 days. During this time, the endometrial lining of the uterus is shed, which is composed of blood and tissue. The uterine shedding is what we experience as our period. The majority of your hormones are at their lowest point, negatively impacting your energy level and making you feel a bit sluggish.
Follicular Phase: The follicular phase is typically day 6-13 of the cycle. Hormonally, there is nowhere to go but up, so FSH signals your ovaries and follicles to create more estrogen and progesterone. This gives you more energy and allows you to feel and even look your best (to help you find a mate). Remember, humans are animals, and mother nature always has a way of reminding us of that. 
Ovulation: Ovulation generally occurs between days 13-15 of your cycle. Ovulation begins with a spike in FSH, which prepares the release of an egg (or more than one egg) from the ovary. Once the egg is mature, LH spikes triggering the release of the egg(s). LH strips are an easy way to see if and when you are ovulating. Typically, the day after your LH spike, your body releases the egg to potentially get fertilized.  
Luteal Phase: After ovulation comes the final phase, the luteal phase. This is the time that your body prepares for a potential pregnancy. Innately, your body tries to create the perfect conditions for a fertilized egg and embryo. Have you ever been really excited about an event or hosting a dinner party, and want everything to be perfect? Welcome to your hormonal response. After ovulation, your body reduces estrogen and testosterone and increases progesterone to create the ideal environment for implantation and pregnancy. If the egg is not fertilized and implanted, then your body prepares to have another period to shed the egg, blood, and uterine lining. The luteal phase is when women might notice premenstrual syndrome (PMS) symptoms and become slightly more irritable.  
If your menstrual cycle is irregular and bothering you, hormonal contraceptives can help create a more predictable pattern. If you have PMS and realize it may be impacting your relationships, school/job, and daily life, talk with a specialist to ensure you do not have any other underlying issues. We will discuss more about PMS and PMDD under Common Hormonal Issues.
Perimenopause: Peri- means around, and menopause is when your body stops having a menstrual period. Just as it sounds, perimenopause means "around menopause." This is your body's natural transition into menopause, which can take years. Women start the perimenopause phase at different ages, and it can last for different durations. During this time, your estrogen levels rise and fall unevenly, impacting your previously normal cycle. Anovulation can also occur, which is when ovulation does not happen and disrupts your cycle. You might even notice menopause-like symptoms during perimenopause, including hot flashes, vaginal dryness, night sweats, and sleep problems. It is important to note that your likelihood of unplanned pregnancy decreases, but it can STILL happen. If you are ovulating, you can get pregnant.
Menopause: Menopause is the natural biological process when your menstrual cycle ends and has not returned for 12 or more months. Menopause most frequently occurs in your 40's and 50's, but the average is 51 years of age in the United States. In a sense, it is a double-edged sword. On the one side, your period has finally ended; on the other side, your hormonal balance is taking a drastic turn. Symptoms such as night sweats, vaginal dryness, weight gain, thinning hair, loss of breast fullness, and more begin to occur. There are effective treatments available in both hormonal and non-hormonal forms. The most important part of menopause is finding a caring provider to help minimize the ever-changing symptoms.