Birth Control Overview:
Birth Control (also referred to as contraceptives) comes in several forms, shapes, and sizes. Some are ingested, others are applied to the skin (the patch), while some are inserted like the shot or ring, and others rely on a computer algorithm. Although there are plenty of options out there, many influence women's hormone levels and try to prevent a mature egg from being released to get fertilized and others try to prevent the fertilization of a released egg.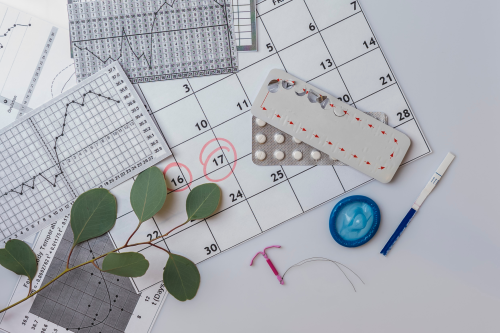 Methods of Birth Control:
Non-Hormonal: It ispossible to practice safe sex naturally without the use of any hormones. The following options are great alternatives for women who may not be suitable for hormonal contraceptives due to health or personal reasons.  Several of these techniques may even be used in conjunction with one another to provide improved protection and efficacy.

Cycling/Tracking: There are a number of different methods to this. We will review the safest mechanism as well as list some others so you can research these options as well.

Basal Body Temperature Method: In this method, you must take your temperature every single morning and record the values. Roughly halfway through your cycle (around ovulation), you will notice that your body temperature increases slightly by 0.5-1 degree F. The 2-3 days before the increase in temperature is when you are most fertile.  This means you need to be consistent in taking your temperature at the same time every day, as well as have a consistent menstrual cycle for this to be most effective.
Other cycling/tracking methods include: Standard days method, cervical mucus method, and symptothermal method.

Barrier Methods: Barrier methods provide a layer of separation between both parties during sexual intercourse to prevent sperm from traveling into the uterus and beyond where it could fertilize an egg. Barrier methods are the only form of contraception to help prevent the spread of sexually transmitted infections (STIs). They should be used with an appropriate lubricant to prevent irritation and/or tearing of the material.

Male condoms: Worn by the male over his penis to trap any sperm from entering the female during intercourse. Condoms consist of a thin sheath of latex (rubber), polyurethane (plastic), or natural (animal) membrane.
Female condoms: Worn by females and inserted into the vagina prior to sex in order to provide a barrier and catch any sperm released during intercourse. Female condoms are a thin plastic pouch that lines the vagina. It is held in place by a closed inner ring at the cervix and an outer ring at the opening of the vagina.
Diaphragm/Cap: Inserted by females, these methods fit inside the vagina and prevent sperm from passing through the cervix. They are typically used in conjunction with spermicidal gels that kill sperm.
Hormonal Daily/Monthly Solutions:

Combination Pill: Combination birth control pills are oral contraceptives that combine synthetic estrogen (ethinyl estradiol) and progestin (different types are available). Combination pills stop your ovaries from releasing an egg every month while also changing your cervical mucus and the lining of the uterus (endometrium). These changes decrease the chances that sperm will encounter and fertilize an egg and that a fertilized egg will be able to implant in the endometrium to become an embryo. These are the most widely used contraceptives in the world, and ultimately come with the most options because they are so widely studied and accepted.
Progestin Only Pill: The progestin-only pill (POP), aka- the "Mini-pill," is a type of birth control pill that contains only progestin. While the combination pill contains estrogen and progestin, the minipill only contains progestin. Like the combination pill, the minipill thickens cervical mucus and thins the lining of the uterus (endometrium) — preventing sperm from reaching the egg as well as decreasing the chances that a fertilized egg can implant in the endometrium to form into an embryo. Progestin only pills are great for individuals who have a contraindication to (cannot be prescribed) combination pills. If you are on a progestin only pill it is vital that you take your pill at the same time every day. If a progestin only pill is taken as little as 3 hours late, it can become significantly less effective and lead to a contraceptive failure and an unwanted pregnancy. Women on progestin only pills also have a higher chance of breakthrough bleeding in comparison to the combination pill.
The Patch: "The patch" birth control is a weekly hormonal topical clothlike adhesive that replaces the pill. Instead of taking a pill every day, a new patch is placed on the skin every week. It is not for women with a BMI more than 30 kg/m2. This can be problematic for women since the average BMI for women in the United States is 29.6.   It contains both ethinyl estradiol, and a progestin called norelgestromin. Hormones from the patch are brought into the body through the skin and are absorbed systemically.
The Ring: The Ring is a flexible plastic ring that is inserted into the vagina monthly and left in place. Like combination pills, it contains both ethinyl estradiol and a progestin, which prevents pregnancy by releasing hormones into your body. The hormones suppress ovulation, so your ovaries do not release an egg.
Long Acting Reversible Contraceptives: LARC are a highly effective and easy-to-use category of birth control that can last for years at a time. LARCs are more invasive and require a quick in person office procedure for implantation. There are two major types of LARCs:

Intrauterine device (IUD): An intrauterine device is a T-shaped device that is inserted into a women's uterus to prevent pregnancy. There are many different types including hormonal and non-hormonal options. They both function by creating local changes to the cervical mucous and endometrium that decrease the chance of fertilization of an egg as well as implantation of a fertilized egg.
Contraceptive implant: Contraceptive implants are medical devices that are placed under the skin and release a low and steady dose of a hormone to suppress ovulation and make changes to your cervical mucous and endometrial lining that decrease the chance that an egg gets fertilized or is able to successfully implant and become an embryo.
Emergency Contraceptives: Emergency contraception (EC) is a method that effectively inhibits pregnancy if administered quickly after sexual intercourse. It must be used shortly after unprotected sexual intercourse to be effective. It does not work if pregnancy has already occurred. There are two main types of emergency contraceptives on the market: ulipristal and progestin-only pills. Some EC pills can be bought over-the-counter without a prescription, while others require a prescription. Although emergency contraceptive pills can be used more than once during a single menstrual cycle, you should not make it into a habit. Emergency contraceptives are not as effective at preventing pregnancy as using a traditional daily birth control method consistently and correctly. Emergency contraceptives have not been shown to cause any serious complications, but some side effects may occur including headache, nausea and vomiting, breast tenderness, abdominal pain, dizziness, and fatigue. Also, your next period may not occur as normal, and you may experience increased irregular bleeding or spotting in the week or month after.
Permanent Method: Is exactly how it sounds; a tubal ligation is a surgical procedure that leads to permanent sterilization.  Permanent birth control is the second most popular birth control method in the United States, while the pill is still number one. A tubal ligation is generally a laparoscopic surgery and outpatient procedure. There is much debate about this method for those without children, or a medical necessity to have the procedure.  Many physicians will not preform this procedure on women under the age of 30 without children. That is because a tubal ligation should be considered a permanent solution.  Although some females are still able to reverse this decision later, the chances of a successful surgical reversal that leads to pregnancy is very low and not covered by insurance.
If you are interested in obtaining a hormonal contraceptive:
Be honest and make sure you know your contraceptive past! Tell your medical healthcare provider what worked well for you or caused deal-breaking side effects. If you've been on a hormonal contraceptive before, be sure to tell your provider the prescription names.
What works for your friends or family may not work well for you. If you ask for a particular type of pill and are eligible to receive it, most healthcare workers will honor your wishes. If you aren't sure what you should take, ask, don't guess.
Go in with realistic expectations. Some people do well with hormonal changes; others do not. The longer you are on the same birth control, the better your body gets used to it and reduces the side effects. Don't allow yourself to suffer but know that side effects are common and usually decrease over time. Decide what your tolerance level will be, and what side effects are a deal-breaker.